For the last 13 years, ever since I was an undergraduate student, teaching English (EFL) in various locales and contexts has been my bread and butter; a profession that I have come to love and that has offered me the independence to fuel my academic and artistic pursuits. I care deeply about education, especially in the current climate, and teaching teens is my passion, helping them to discover the world and form their ideas based on critical thinking and a spirit of inquiry. Language teaching, especially a global language such as English, is a perfect channel through which to do this.
I'm fortunate to have a terrific relationship with Andrioti School, where I've been offered the creative space to develop a series of art, culture, and myth-related courses and seminars for both children and adults.
Last summer (2015) I taught an English Through Myth course to a group of schoolchildren who visited us from Bosnia, and it was one of the most creative and enjoyable courses I ever taught!
This summer (2016), we integrated the arts into our teen EFL classes even further, with more field trips and inquiry-based teaching . Thus a fruitful collaboration between Andrioti School and ICON Gallery was born – since symbolist art that tells a story offers numerous opportunities to get students talking in real-world situations and to learn about culture while doing so. The students themselves requested this particular field-trip, and it was a day to remember. See the video below for a taster….
Theatre and art engaged our smallest students with events for the whole family….
Then, later this summer, we ran our first Arts Camp for teens. Over the course of a week, we encountered Van Gogh, Klimt, Magritte, and Picasso, and students from different countries learned to paint in the style of these artists while speaking only English…..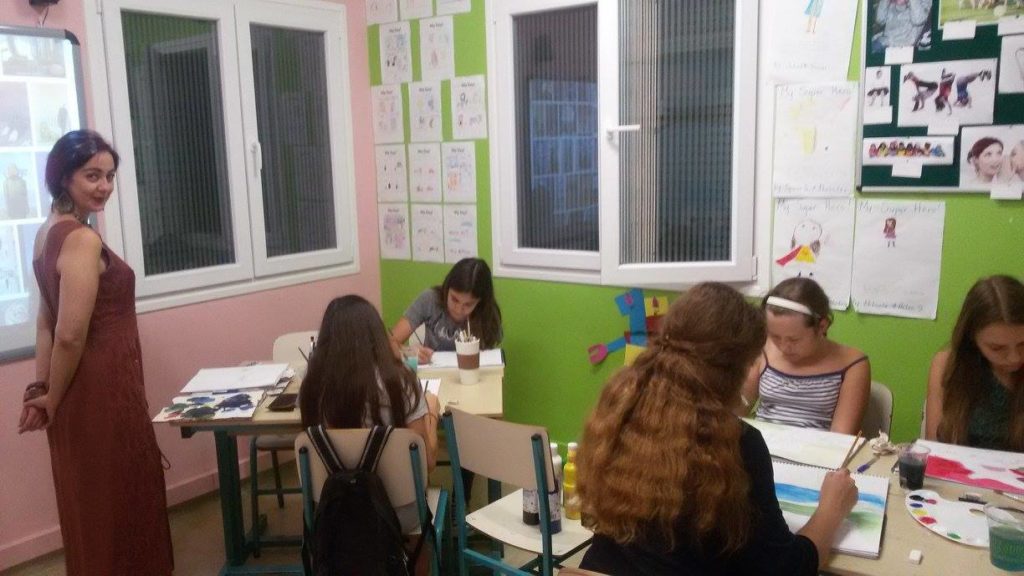 For later this year we have a slew of language and cultural courses planned for adults and children alike…. looks like it will be another fruitful year!