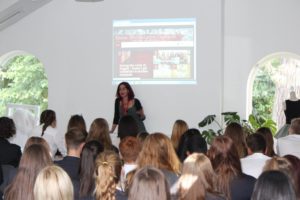 Sasha is a lively and experienced speaker, and over the last ten years has addressed a wide range of audiences around the world.  She regularly lectures on art, culture, philosophy, and myth, and designs and leads workshops on a variety of topics.
As a practising artist and educator, a key focus in Sasha's lectures and workshops is the relevance of these topics to the here and now. In her presentations she actively invites the audience to discover for themselves how topics such as art and myth are relevant to their own circumstances. She also designs custom training sessions and courses for professionals (such as teachers, artists, youth workers, and anyone involved in creative work).
Her main interests include the immediacy and role of art as a force for change, myth and its enduring significance to culture, symbolic expression and art as language, and various aspects of art and cultural history.  This includes both historical and modern expressions of both art and storytelling and in recent years Sasha has successfully engaged audiences by bridging classical art and literature with performance poetry and storytelling.
See below for a list of currently available seminar topics. Sasha offers many of these in collaboration with Andrioti School on the beautiful island of Corfu, Greece. Custom seminars and courses for individual visitors or small groups can be tailor-made and arranged at short notice. Please contact the school directly for more information.
Lecture and workshop topics
For the general public
All topics are flexible, and can be limited to a one-hour lecture/discussion session, or expanded to span between 2-4 sessions depending on your needs. More detailed descriptions are also available upon request.
Troubadours, storytellers, and poets: The magic of narratives helps us to forge meaning out of apparently chaotic reality. By exploring the long chain of narrative tradition, we discover this magic for ourselves and use it to make sense of life, to teach, and to inspire.
How to read art: Far from being a matter for the highbrow elite, art has always been a virtual locus for the exchange of ideas, passionate debate, and exploring our darkest fears. This flexible seminar series can be delivered as a single-session introduction, or broken up into four separate sessions, spanning from the Renaissance to the present day, and unlocks the magical language of art from bygone days until now.
Symbols and archetypes in art and myth: An introduction to major mythological themes, archetypal characters, and their magical and symbolic role in art, culture, and society.
What is philosophy? An introduction to some of the world's greatest thinkers and their impact. This seminar focuses on the practical use of philosophy in daily reality, not as a highbrow occupation but as a hands-on way to ask the right questions, identify logical fallacies, climb out of a rut, or live more deliberately. This course puts philosophy to use within our daily reality.
What is esotericism?  This oft-misunderstood term (along with its cousins, occultism and mysticism) is explored, explained, and connected to culture-at-large. This introductory seminar explores timeless questions about the human condition and offers clear, working explanations of these terms and their importance.
Greek myth and culture
Plato's myths
Greek icons, their history and symbolism
Metamorphosis: Transformation in poetry, literature, and art
Gods and heroes in myths and art
Holy Monsters of mythology and their symbolic content
Theogony and Cosmogony in the Myths of the World
The Holy Grail in literature and art
The Philosophers' Stone: The concept, the legend, and the reality
Special interest Topics
Sasha is a trained historian of culture. Her doctoral research focused on Symbolist author and mystic Josephin Peladan, who had a profound impact on Symbolist art of the Belle Epoque. Her MA theses both focused on the symbolism of alchemy – one in literature, the other in art. Alongside her studies she has spent almost 15 years working as an EFL teacher, introducing art and culture as vehicles for language learning, and she has been a practising artist since 1999. As a result, she has lectured on a variety of topics for specialist audiences at academic venues. A list of select topics follows.
Symbolist art and 19th century Paris
The French Occult Revival
The philosophy behind Symbolist thought
Esotericism, Modernism, Literature and art.
The neo-platonist roots of Greek icons
Josephin Peladan, his philosophy and his legacy
The alchemical emblems of Count Michael Maier
Greek myth and alchemical emblems
Workshops
Sasha designs and leads workshops on two main themes: art composition, and EFL teaching. She can tailor aspects of her areas of expertise into almost any format – some indicative topics follow below. Please contact Sasha for detailed descriptions including workshop duration and components.
Workshops for practicing or beginning artists:
How to begin working with symbolism – where to start and basic techniques
How to work with symbolic languages: research and painting composition
How to work with esoteric symbolism – getting it right.
How to adapt symbolic imagery to different drawing/painting techniques
How to communicate complex narratives or concepts in images
How to present symbolic artwork to an unwitting audience
Workshops for EFL professionals
NB: Sasha offers EFL workshops in exclusive collaboration with Andrioti School. A selection of possible topics follows. Please contact the school directly for further information.
Teaching English through Art and how to integrate it into an exam-focused curriculum
Classic English Literature in the EFL classroom.  How to make students love the classics.
From Beowulf to rap – how to get your students to love poetry – and learn English too!
English through Myth – integration and methods.
Seminars and workshops for Teenagers
A number of the general interest  topics can be adapted for teenagers, with the aim of developing their appreciation of culture and their critical abilities. Specialised teacher training courses focusing on the use of art, poetry, and other cultural artifacts in the language classroom can also be arranged. Please contact Sasha for further details.
Terms and Fees
Sasha frequently  travels internationally to fulfill speaking engagements at universities, cultural centres, and special-interest venues. Some lectures may also be delivered via Skype or similar technology. Sessions can also be arranged for schools, as well as individuals or private webinars.
Fee: Sasha's speaker's fee depends on the type of organisation, the method of delivery, desired length of session, and what form of customisation is required. Quotes will be offered on a case-by-case basis. In some cases, part or all of the agreed fee must be paid in advance. Please contact Sasha to discuss your requirements.
Expenses: For international engagements, Sasha's travel expenses, accommodation, local transportation must be covered by the organiser.
For inquiries and bookings please contact Sasha at sashachaitow[@]gmail.com (remove the square brackets).